Well you have your website…….clean, appealing, powerful and hey I saw that cool mascot as well. But unfortunately there are no visits coming on your website or the case may be once in a blue moon for any accidental visit. But the question is why it is all happening? Why are you not receiving any online visits? Why is your neighborhood competitor always happy and how he has started getting more and more orders now? And why still are you crushing your teeth with frustration……….oops my mistake!!
All this jots down to one consensus, that your website is definitely lacking something. And the answer is quite evident; it's an SEO (Search Engine Optimization) approach. An SEO is a set of online marketing activities for any concerned website which includes some online & offline tasks that result in uplifting the search engine ranking for that website. This simply means, that if your website has a high search engine ranking, then the chances are much more that your website gets on the search engine first page, if somebody searches a product/service related to your domain.
How can an SEO, benefit your website and business?
It's very obvious for you to question that if 'If I am going to spend an amount monthly for some time, then what benefits shall I reap'. The answer lies in some of the following points which can definitely drive your mindset to go ahead and opt for SEO strategy.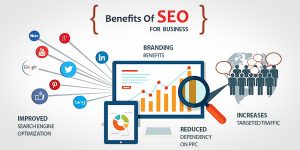 The main advantage with an SEO plan is that you start getting a precise and targeted traffic. When your website gets placed in the top 10 rankings on search engine for some specific key phrases then you start receiving such online traffic which is exclusively looking for the same stuff.
Maximum ROI (Return On Investment)
The returns on SEO are definitely higher than any other online marketing methods, be it email marketing or PPC. The reason is, in SEO once your website is placed on the top search engine page, you get a consistent online traffic for considerably a longer period of time. Doesn't matter even if you have stopped the SEO for a while, it still holds result consistency.
I don't think that this point needs any more clarification now. Guess, your website is placed on the first page a prolific search engine (Google/Bing) which keeps on getting billions of searches, would you not get any queries? Well if you are placed at such a hotspot then I seriously think that you get more queries conversion into sales .
By now, I am pretty sure that you might have understood what it takes for your website to get a stable online visibility with result oriented queries and of course, SALES. So don't waste any further time, the SEO plane is waiting for you to board and TAKE A FLIGHT!!